About STM
STM is the standard bearer for the academic publishing industry, working with its members to advance trusted research worldwide. We are committed to ensuring that the great discoveries of our time are communicated with pinpoint accuracy, clarity and integrity. We champion innovation across academic research, stimulating the development of new technologies and guidance on universal standards.
We dot the "i" in Science.

Overview
STM is unashamedly proud of the achievements of academic publishers in bringing research of all kinds to the attention of a global audience of academia and the wider public. Together, publishers share more than three million research papers every year bringing fresh insight into the nature of human existence and in many cases announcing world-changing discoveries
The industry employs over 110,00 people and continually invests in the research infrastructure to ensure that only highest quality of work is made available in formats that are easy to understand and share with the wider scientific and academic community. 
STM's members are responsible for around two thirds of all published papers from the worlds of science, technology, medicine, social sciences, and humanities. STM is currently contributing to more than 10 international public consultations on technology, policy and funding issues that will impact the future research ecosystem and continually produces insights and forecasts on the future of academic publishing. We invest in developing new technologies and standards to ensure research is of the highest quality, extremely trustworthy and easy to access.
STM has more than 140 members across the globe including all the major commercial publishers, learned societies and university presses.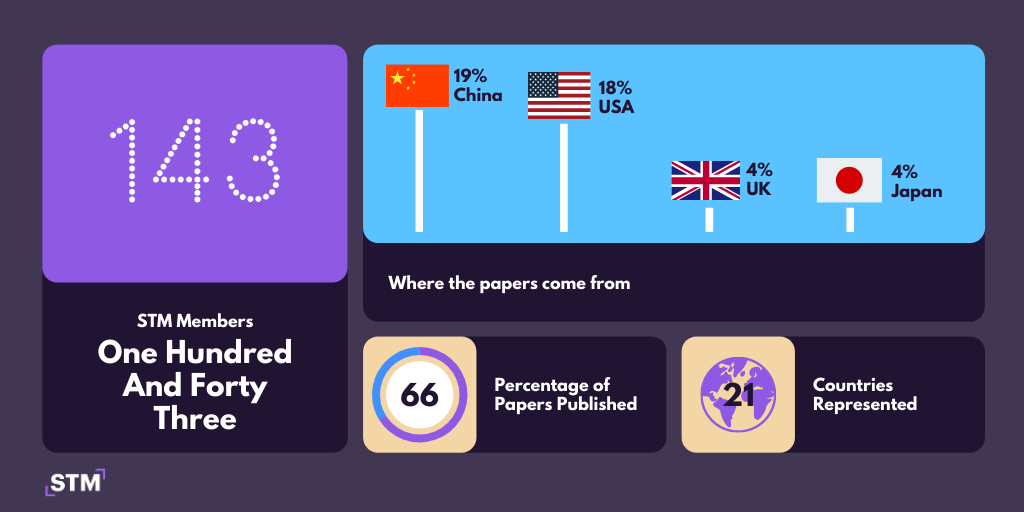 Our mission
 The publishing partner in shaping the research communication system of the future
At STM we support our members in their mission to advance trusted research worldwide. Our over 140 members based in over 20 countries around the world collectively publish 66% of all journal articles and tens of thousands of monographs and reference works.  As academic and professional publishers, learned societies, university presses, start-ups and established players we work together to serve society by developing standards and technology to ensure research is of high quality, trustworthy and easy to access. We promote the contribution that publishers make to innovation, openness and the sharing of knowledge and embrace change to support the growth and sustainability of the research ecosystem. As a common good, we provide data and analysis for all involved in the global activity of research.
STM Aims and Objectives
to assist publishers and their authors in their activities in disseminating the results of research in the fields of science, technology and medicine;
to assist national and international organisations and communications industries in the electronic environment, who are concerned with improving the dissemination, storage and retrieval of scientific, technical and medical information;
to carry out the foregoing work of the Association in conjunction with the International Publishers Association (IPA) and with the national publishers associations and such other governmental and professional bodies, international and national, who may be concerned with these tasks.
How STM is run
STM is a not for profit Foundation under Dutch law (Stichting) and registered in the Trade Register at the Chamber of Commerce in Amsterdam under Chamber of Commerce number 41200219.  The Foundation uses International Association of Scientific, Technical and Medical Publishers as its trading name.
Read the STM By-Laws
About the Industry
To find out more, visit our About the Industry section where you'll find the STM Report and links to other industry relevant documents.